Wood Chipping – Disposing of Your Branches and Limbs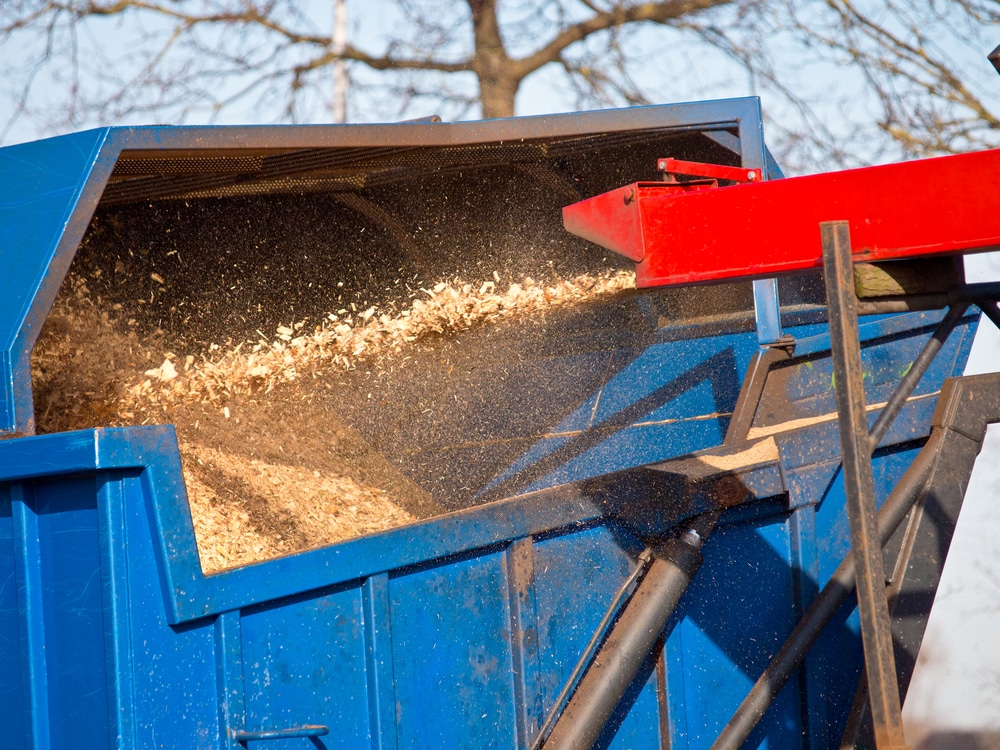 We will proudly dispose of any shrub or tree debris that you have on your property. We will do it quickly and at the best price in town. Nobody wants piles of brush and branches lying around. They are both and eye sore and a hazard.  Proper wood chipping by a professional company is an affordable and convenient option.
Large debris can be extremely difficult to move or dispose of. The average property owner may not have the manpower or materials to get the job done.  
Whether or not you have a chainsaw, this work isn't easy.   That's where Tree Masters Greenville comes in. These cumbersome tree and brush piles need to be disposed of with a high quality wood chipper. That's exactly what we use to get the job done.
 You can always rent a chipper but we don't recommend it. The cost of renting one and having the wood waste hauled away by truck can be expensive. Wood chippers are loud, heavy and are prone to mechanical breakdown if used improperly. We can tell you from experience, even a high quality wood chipper is a nerve-racking piece of equipment. Hearing protection and eye ware are necessary, along with protective clothing.
We recommend you save yourself from the time and aggravation. Let us deal with the headaches so you don't have to. After all, you have better things to do than sweat in the heat or trot around in the cold. Give our insured tree service experts a call and we'll handle any sized job lickety split.     
How Much Does Brush Chipping Cost?
Tree service companies will include all sorts of hidden fees when it comes to lot clearing. Tree Masters Greenville find this practice unethical and evident of a low-quality company. Some charge extra for hardwood removal, adding another $100-$150 to the price. If the chipping needs are located some ways from your property, some companies will charge a premium there as well.
Before you agree to the terms and conditions of some sporadic tree service organization, you'll want to understand the costs and the specific assistance offered, a few organizations will give brush chipping as a piece of the estimate.
With our reputable company, you can expect to pay somewhere around the $70/hour mark and we will be transparent about the costs based on your specific situation. 
When overseeing trees on your property, you have to guarantee you find solid notable tree administration organizations that have the right equipment at a reasonable expense. For brush-chipping tree service, a huge piece of the costs will, when all is said in done, depend upon the circumstances, for instance, the condition, size, zone, and various components that affect the difficulty of the job.
Why Choose Greenville's Tree Masters?
We've listed plenty of reasons why we think we're the best choice for your chipping job but we want to reiterate. Our service comes with certified, insured arborists who take their work very seriously. We handle the work quickly, effectively and treat your property like it's our own backyard. We also use the wood chippings by sending them to sustainable usage sources. We don't believe in disposing of something that can benefit others in our beautiful city. 
We're also going to give you our best price upfront, with no hidden fees or surprises of any kind. It's all about quality of service and integrity with us. After all, we want you to come back to us for all your tree service needs as long as you reside in Greenville, SC. Whether it's tree removal, pruning, or stump removal – we do it all. 
So give us a call and our professional arborists will get to work for you. Thank you for your trust in us. We can't wait to meet you.