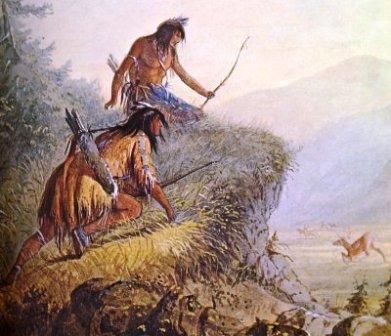 A Brief History of Greenville
Master Tree Service here – we love our beautiful city and want to celebrate it on our website.
Today we'll go over a brief history of this incredible land.
There was a time where colonists were forbidden to work or settle upon the land we know as Greenville today.  This is because it used to be a hunting ground for the Cherokee.  This was until a wealthy settler from Virginia, named Richard Pearis, arrived here in 1754 and established relationships with the Cherokee.  He eventually had a child with a Cherokee woman and was given roughly 100,000 acres in 1770. 
Pearis then established a plantation on the Reedy River in what we now know as downtown Greenville.  Pearis supported the Loyalists during the American Revolution and had an alliance with the Cherokee.  The Cherokee ended up attacking the Patriots.  The Patriots retaliated by burning down Pearis' plantation and jailing him.  Pearis never returned to the area but Paris Mountain is still named after him.
Greenville County was formed in 1786.  Some say it was named after the lush tree and plant life that gave the area a "green" look and feel.  Some say it was named after General Nathanael Greene for his role in the Revolutionary War.  Here at Master Tree Service, Greenville we believe the former. 
Lemuel J. Alston bought 400 acres of Pearis' plantation in 1788, built a mansion and eventually established a village called Pleasantburg.  In 1816, Vardry McBee bought that mansion for his summer home. 
Vardry McBee is considered by many to be the father of modern-day Greenville.  He donated land for many uses including a cotton mill, churches and academies.  McBee also funded Furman University and moved it to Greenville from Winnsboro, SC. 
It wasn't until February of 1869 that Greenville's town charter was amended and converted from a town, into a city.  Construction really began to pick up in Greenville starting in the 1870's.  A big piece of this was a bridge spanning over the Reedy River along with new mills and new railroads.  In 1874, "Greenville News" became the cities first official newspaper.  Cotton Mills were by far the biggest industry in Greenville.  By 1915, the area was considered "The Textile Center of the South". 
The city experienced roaring industry and success for years until the great depression hit.  Mills had to close, schools had to merge or shut down, there was a massive textile worker strike and the city was in dire straits.  The city emerged and in 1942 the Greenville Army Base was established for WWII training and aid. 
Greenville's economy surged after WWII.  The city limits expanded and downtown stores were popping up everywhere.  Bob Jones University and Greenville Technical College were established along with other higher education facilities.  The Greenville-Spartanburg International Airport was established in 1962.
Business and economy began suffering in the 1970's as many retailers left Greenville.  Mayor Max Heller put initiatives in effect to revitalize downtown Greenville.  In 1978, a federal grant was signed, enabling Greenville to establish a convention center and a hotel. 
This brought business back to the area and set Greenville on a path towards success.  We still see the effects of that success today.